Rewind: Sowers of the Thunder by R. E. Howard
Picked this up for a penny the other day. Plus postage and packing of course. I read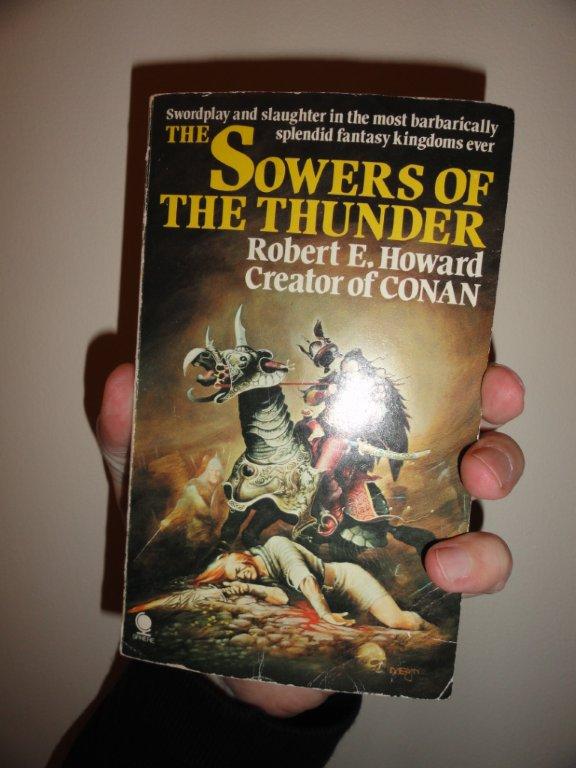 Sowers back in 1975 when I bought the Zebra special edition paperback with original illustrations. Sold it for next to nothing in the early 90s but for some reason the book popped into my head when I was trawling for historical fiction. My old Zebra edition now sells on amazon for £25 so I guess I'm not the most astute investor. Now I do plan to reread Sowers for the first time in 30 years but I'm a little reticent about it. Will it still thrill me the way my failing neurons seem to make me remember I was thrilled back in 1975?
Sowers of the Thunder, a collection of four unrelated stories, is a departure from the high fantasy worlds that R.E. Howard created and is best remembered for. Of course, he dipped into westerns and science fiction as well, but these are actually historical high-adventure tales. They're set mainly in the Middle East and Asia in the Middle Ages although the last, Shadow of the Vulture, is actually set at the siege of Vienna in the 16th century. Pity the marketeers at Sphere Books didn't actually read the book as the cover refers to: "Swordplay and slaughter in the most barbarically splendid fantasy kingdoms ever".
I'm definitely not the same reader I was all those years ago. And I'll probably notice now how creaky the plots are, how purple the prose, and how hammy the dialogue (Laurence Olivier might have had a great time with Howard's lines). Or maybe it will indeed stand the test of time and, given that the stories were written in the 1930s, I'll think they hold up well. Whatever the case, the most important thing for me will be that Sowers, and the other works of Howard, fired my imagination and my will to write creatively, and set me dreaming about past worlds. It might just be an enjoyable trip down memory lane.