Over at Mythic Scribes, Codey Amprim has posted a thoughtful blog about the trend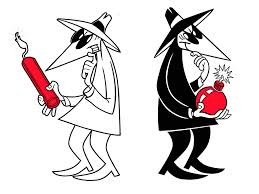 towards "grey" fantasy in the last few years and how traditional black hats vs. white hats storylines seemed to have waned in genre fiction. http://mythicscribes.com/miscellaneous/is-black-and-white-fantasy-dead/
A lot of this trend is down to RR Martin of course, but there are others as well that are creating characters that embody both good and bad qualities—just like a lot of real life people. Westeros isn't the only place where it's difficult to tell who's your friend and who's not. I remember reading the Thomas Covenant books back in the 70s and being shocked by Donaldson's handling of his "hero". Many of Michael Moorcock's characters such as Elric also come in shades of grey bordering on black. Even my own hapless protagonist in Gideon's Angel has done quite a few things that are nothing to be proud of. As Codey points out in his post, grey can really help by throwing unpredictability into the plot and spicing things up.
It's a bit of a red herring to debate whether this reflects a hardening of the society we live in today as some have done. People have been writing characters like this since—well, since they started writing stories. And I don't think that writers will ever abandon good vs. evil storylines. The power of archetypes appeals to all of us in an almost unconscious way as both Jung and Campbell expounded years ago.
Injecting moral ambiguity into characters can be a great writer's tool but Codey also notes there are significant drawbacks as well. Unpredictability can lead to a plot becoming directionless with  too many twists, dead ends, and dead characters. The result can be, as he puts it,  "endless repetitive soap opera" and waning reader loyalty and interest. Words of wisdom there and a warning to those who think grey is the new white.