Hell Bent for Leather
I really shouldn't complain. It's a rare thing to get TV drama and film to cover the 17th century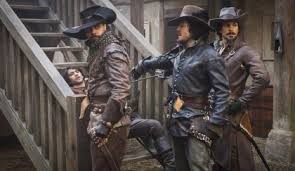 at all, so when something from that era comes along on the screen I want it to succeed and succeed well. And with a property like Dumas's Three Musketeers, it ought to be knocking on an open door. Enter the BBC with its new reimagining of the classic tale. This coming Sunday episode 2 airs on BBC One and I fervently hope that it raises the bar from last week's shaky opener.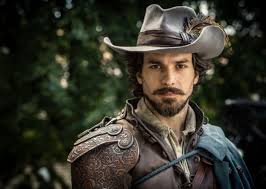 Episode 1 was an origin story of sorts, introducing us to the main characters while injecting a plotline that centred around the nefarious Cardinal Richelieu's scheme to discredit our erstwhile heroes by implicating them in a series of murderous robberies in the countryside. It all leads to a somewhat predictable race-against-time story to prevent the execution of musketeer Athos after he faces a rather hasty trial. All the elements are there and the characters we know and love. But it's a wild deviation from the Dumas storyline as you would expect from something that is trying not to cover the same ground galloped over gracefully by Richard Lester's classic 70s swashbucklers.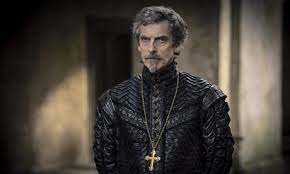 While I didn't think any of the musketeers were particularly riveting characters and the repartee got a bit silly, Peter Capaldi entertains as Cardinal Richelieu. As the leading black hat in this romp he gets most of the best lines. The sets are good since most of it is filmed in the Czech Republic and likewise the weaponry is generally up to scratch (not a flintlock in sight thank God!). The swordfights, of which there are many, are staged competently if not always convincingly. Perhaps these will improve as the series moves forward (and they get more practice in).
Costuming is another story though. To be charitable I could call it "whimsical". The musketeers are dressed like they had a rummage through the costume box backstage at Universal Studios. Rather than Frenchmen from 1630, they look more like a cross between leather-clad Sergio Leone-style Mexican baddies and extras from Game of Thrones thanks to some bizarre bits of armour tacked on to their shoulders. And what were those red leather ponchos that the Cardinal's guard were running around in? Even Peter Capaldi gets a black, all-leather padded doublet, hardly de rigueur for a man of the church. Obviously, a lot of cows gave their lives in the making of this series. Gorgeous Maimie McCoy as the evil Milady de Winter walks around dressed for the most part like a streetwalker from 1870s Paris. All this jars the eye and I doubt it is accidental. The producers are striving for an edgy, "hip" feel that will appeal to a younger audience. One that's heavily into leather apparently. Authenticity be damned.
I suppose I'll keep watching for now—and hoping. For an actual proper review of the series and not my ramblings,  I recommend (and agree with) David Benedict over at The Arts Desk:  http://www.theartsdesk.com/tv/musketeers-bbc-one