Wrote a retro review for the July issue of SFX Magazine which the editors have graciously allowed me to reproduce here. It was a very different experience reading R.E. Howard again after so many years–and not an altogether pleasant one. Have a read and let me know what you think.
The Savage Tales of Solomon Kane
Robert E Howard, (Del Rey, 1998)
Writer Clifford Beal considers Conan's Puritan stablemate
Robert E Howard, who took his own life at the age of 30, was the father of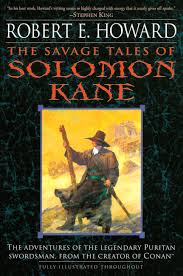 that subgenre of fantasy that would become known as "sword and sorcery". Best known as the creator of Conan the Barbarian, Howard's writings influenced a generation of fantasy authors, including Fritz Leiber and David Gemmell.
But before Conan, Howard had created a very different character in Solomon Kane, a mysterious Puritan loner who roams the darker corners of the world, fighting ancient and nameless evil in the early 17th century. Bursting from the pages of Weird Tales in 1928, Solomon Kane fought Lovecraft-inspired deities, demons, pirates and scores of hostile natives to rescue the helpless and right wrong wherever he saw it. Kane is far more conflicted and layered a character than Conan, and Howard portrays him as driven, if not downright psychopathic. In "The Blue Flame Of Vengeance" Kane remarks to a man he is helping: "It hath been my duty in times past to ease various evil men of their lives…" Which is an understatement.
To be sure, this is pulp fiction. You won't find subplots or shades of grey here, and since these are largely short stories there is a definite headlong rush to get down to the business at hand, usually involving a good amount of swordplay and spilt blood. Anachronisms and cod "olde world" dialogue sometimes sound a sour note, but at its best, Howard's writing is dazzlingly energetic, vivid and not without poetry. His descriptions of hand-to-hand fighting are compelling as they are brutal but even here there is a mastery of mood and intensity. In one scene, Howard's imagery is chilling: an avenging Kane overpowers a murderous pirate in a knife fight and intentionally kills him by degrees, plunging in the tip of his dagger, one inch at a time.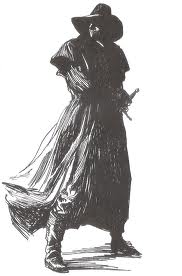 Yet there's a darker side to the swashbuckling. Racial stereotyping was always present in pulp fiction and Asian or African physical features were often used as shorthand for moral turpitude and inferiority. Sadly, much of the writing in Solomon Kane follows this path. A few of the better-known tales such as "The Moon Of Skulls" are set in central Africa, where Kane encounters the remnants of an ancient civilisation ruled over by brutish savages. And here, black skin colour is equated with degenerate evil, with Kane portrayed as a white saviour intent on toppling the evil African queen Nekari. Even the last survivor of Atlantis, whom Kane tries to free from bondage, is worried about his ethnic purity: "I, the last son of Atlantis, bear in my veins the taint of Negro blood."
But Howard and his characters are full of contradictions. Solomon Kane's self-professed "blood brother" is a black African wizard and the only real friend that Kane has in any of the stories. And in "The Footfalls Within" Kane risks his life to free African villagers from Arab slavers and then guides them to safety. Solomon Kane's tales are, like those of Conan, rousing epics, and as part of our pulp-era inheritance they deserve to be read. But like much of our past, it's not all good. Today Howard's writing, imaginative as it is, leaves a slightly bitter aftertaste.