OK, folks, it's bearing down on us like a runaway double-decker on Hampstead Hill. It's Loncon3: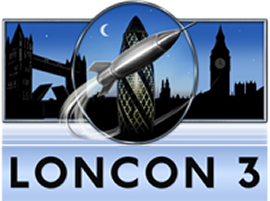 the 72 World Science Fiction Convention held at the London ExCel Centre from 14-18 August. This one looks set to be huge with a packed programme and many multi-media events in addition to the usual literary discussions and panels.
I'll be taking a seat alongside Anne Lyle, Elizabeth Hand, Laura Goodin and John Clute for a panel session on the Sunday (1500-1630) called:
Imagining London: History and Fantasy
And here's how the organizers bill it:
London has long been a rich venue for fantastical storytelling. But  how has the image of fantastic London changed over time? How was fantastic London created in the work of writers like Dickens, Stoker  and Doyle, and how does that vision differ from the historical-fantasy  London's writers are creating today? Which aspects of London have  consistently attracted writers, and which aspects have been unjustly neglected?
I'm dusting off my 19th century fantasy tomes and revising to prepare for what should be a fascinating discussion come the day.