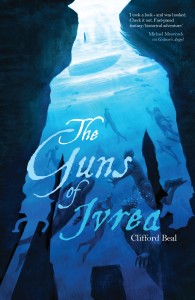 Solaris Books have announced the final cover for the first in the Valdur series of epic fantasy novels, The Guns of Ivrea. And here it is. A beautiful piece of cover art from artist Adam S Doyle that captures the spirit of the novel with a group of merfolk rising up from the deep. The novel is out next February but you can pre-order it now over at Amazon UK and Amazon USA.
Here's the synopsis of the story:
One Island. One Crown. One Faith.
A thousand rivalries….
Acquel Galenus, former thief and now monk of no particular skill, indifferent scribe and even worse chorister, uncovers a terrible secret under the Great Temple at Livorna, one that could shiver the One Faith to its core. A secret that could get him killed. A secret that could enable an older more sinister form of worship to be reborn.
Pirate princeling Nicolo Danamis, mercenary to the King and captain of the largest fleet in the island kingdom of Valdur, has made one deal too many, and enemies are now closing in to destroy him.
Citala, fair-haired and grey-skinned, the daughter of the chieftain of the Merfolk who inhabit the waters of Valdur, finds herself implacably drawn to the affairs of men. She puts events in motion that will end her people's years of isolation but that could imperil their very existence.
All their fates will intertwine as they journey across the land, through duchies and free cities riven by political intrigue, religious fervour, and ancient hatreds. Alliances are being forged anew and after decades of wary peace, war is on the wind once again…