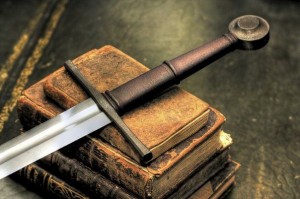 British Fantasy Con is almost upon us (23-25 October) and the organizers have just released this year's programme which looks exciting, jam-packed, and wonderfully eclectic with a cast of thousands (well nearly).  This year we're in Nottingham and I'll be participating on a panel session looking at crafting the perfect fight scene and hopefully later that weekend also reading from my forthcoming novel, The Guns of Ivrea, launching next February. Here's the skinny:

Blades, Wands & Lasers: Fighting the Good Fight-Scene
Whether melee, missile or magic, combat scenes can make for some of the most compelling in genre fiction or film. But what are the essentials for creating telling your story through action?
the mechanics of fighting: how much do you need to know?
from one vs. one to massive scale battles
making sense of mayhem: choreography, pacing, tension, tone & sensory overload
tips for showing character through action
weapons of mass destruction: when is too powerful, too much?
There's only one way to settle it…FIIIIIGHT!!!
Moderator: James Barclay
Panelists: Clifford Beal, Juliet E. McKenna, Brandon Sanderson, Jo Thomas, Danie Ware
I'll be in some great company and though I believe most of us are leaving our swords at home this time, should still be informative and fun if slightly less physical than Fantasy Con 2014.