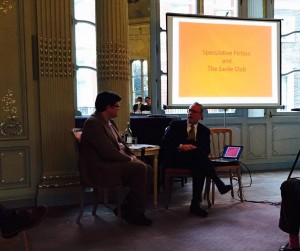 Many thanks to those who came to hear my talk last week on a few past members of The Savile Club in London, members who just happen to be among the most famous authors of science fiction, fantasy and horror literature.
The Savile Club, which was founded in 1868, quickly established itself as a meeting place and convivial watering hole for authors, artists, musicians, and scientists in the Victorian world and it is still going strong as it approaches its 150th anniversary.  With the help of my editor at Rebellion Publishing,  the talented and knowledgeable Jonathan Oliver, I had the pleasure of addressing a cross-section of the current membership last week in the ballroom where I attempted to put "speculative fiction" into perspective. My message: it's not all about spaceships, ray guns, and bogeymen. Genre fiction actually often puts contemporary society and its concerns into sharper focus by injecting elements of the fantastic. In other words, the future is now.
The Savile boasted writers from every subject, but in what is now termed speculative fiction the club was particularly fortunate. Members here included HG Wells, Robert Louis Stevenson, Henry James, H Rider-Haggard, MR James, Rudyard Kipling (yes, he did write some SF and fantasy),  and Algernon Blackwood.
Can a club take credit for their genius? No, but as a meeting place it had a definite role to play as a point for the free exchange of ideas and conversation. One member, a newspaper editor who had one leg and a fondness for rum, once insulted Robert Louis Stevenson. Stevenson turned him into Long John Silver. And in a case of what you might call "cross-fertilization", Algernon Blackwood wrote a story that was adapted for a West End musical that Savile member Sir Edward Elgar wrote the music for. A few decades later, in 1936, HG Wells's "The Shape of Things to Come" was turned into a film with a score by his fellow Savilian, Sir Arthur Bliss and starring yet another Savilian, Sir Ralph Richardson. Ah, serendipity indeed.
photo: Markus Lind