Happy to report the delivery of a bouncing, boisterous new novel, weighing in at 136,000 words. The sequel to The Guns of Ivrea is tentatively titled The Witch of Torinia and I'm hopeful that Solaris Books will launch it shortly after the New Year. Yet it wasn't an easy birth by any means. Apart from the self-imposed pressure of avoiding dreaded "sequelitis", writing a follow-on book (whether for a duology or a longer series) contains some particular pitfalls for authors. First, you've created a range of characters and like wayward teenage children, they stopped listening to you probably before Book One ended and now do what they like. With umpteen plot threads spraying out like a spider on crystal meth, the chief danger is a sequel that begins to run away from the author. Character arcs need to be tended to and assessed, plots and sub-plots prioritized and deconflicted, and with just the right narrative voice for  each scene. All the while never losing sight of the bigger picture for the secondary world you've created.
So, after a few bottles of wine and a couple of cigars, now comes the really important part: the edit. It requires a different part of your brain from the bit that gushed out the words to begin with. The more calculating, ruthless part of the grey matter to be exact. And it's indispensable to the final product as is the work-over my editor at Solaris will be giving it in a few weeks. As a former journalist, I'm used to having my work ripped apart by editors and as an editor myself I learned how to dish it out too. Invariably, an honest copy-edit always means a better book. And that usually means rewrites.
Without giving too much away, this second book in the Valdur world deals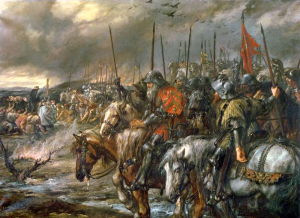 with the consequences of actions taken by the major characters: a religious schism and the launch of a war among the duchies. Whereas Guns of Ivrea dealt primarily with actions on the high seas, for Witch of Torinia, the focus moves to war on land with the scope for some tremendous set-piece medieval battles. To be sure, Captain Danamis will have his fair share of naval derring-do as well as some important secret-squirrel work for the Queen, but this novel really centres on Strykar, my jaded, slightly creaking mercenary and the tough choices he is forced to make. And of course, Brother Acquel's personal burdens continue to grow as he faces the looming threat posed by Lucinda della Rovera, the titular witch. But an unlikely ally is on the way….
Hmm…better get out my blue editing pen…again.