Challenging readers or just annoying them?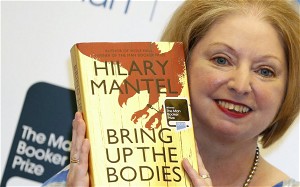 I've got a confession to make: I started Wolf Hall  when it first appeared in paperback but gave up about 200 pages in. I had high hopes that I'd like it since historical fiction is near and dear to my heart but I put it down and walked away. At the time, I found it irritating in the extreme. It's set in an incredible period of English history with colourful characters and bags of intrigue but…written in the present tense. I did try and adjust to this, as well as to the complicated syntax and convoluted prose. In the end, I admitted defeat, miffed with Hilary Mantel and myself.
Now she's scored another hit with a record-breaking second Man Booker Prize for the sequel, Bring Up the Bodies. It's got me thinking again about writing and the implicit contract between authors and their readers. Rather Marmite-like, people are polarised by these books. Today I read an exchange in the Daily Telegraph comments section between two people. The first criticized BUtB for pretty much the same reasons I did above with Wolf Hall. The other person commented: "So how many books have you written?" This reaction misses the point. A reader has every right to criticise a work they've read whether they themselves are published or not.
Mantel wrote in the present tense as a device to bridge the time gap and give a sense of immediacy to events several lifetimes past (I assume). Somehow helping the reader to get inside the head of the protagonist, Thomas Cromwell. And frankly, that is just going to antagonize some readers. Present tense for writing historical fiction has always been frowned on—even considered amateurish for those who have tried. Until Hilary succeeded in it despite the odds.
Difficult prose for its own sake shows a disregard for the reader. But Mantel's books (and they are a challenge to readers) are rich in texture, intricately composed,  cranky but ultimately beautifully written. And they show immense research of the time period: language, social mores, tastes, smells, sound and vision. It's probably the closest any of us will actually get to time travel.
Every book isn't necessarily for everyone. But any work of historical fiction that succeeds like these books have done, deserves to be feted. And given a second chance by those who were frustrated by its challenge. So I'm going to start fresh with Wolf Hall again. I was probably in a bad mood when I first tried reading it anyway.