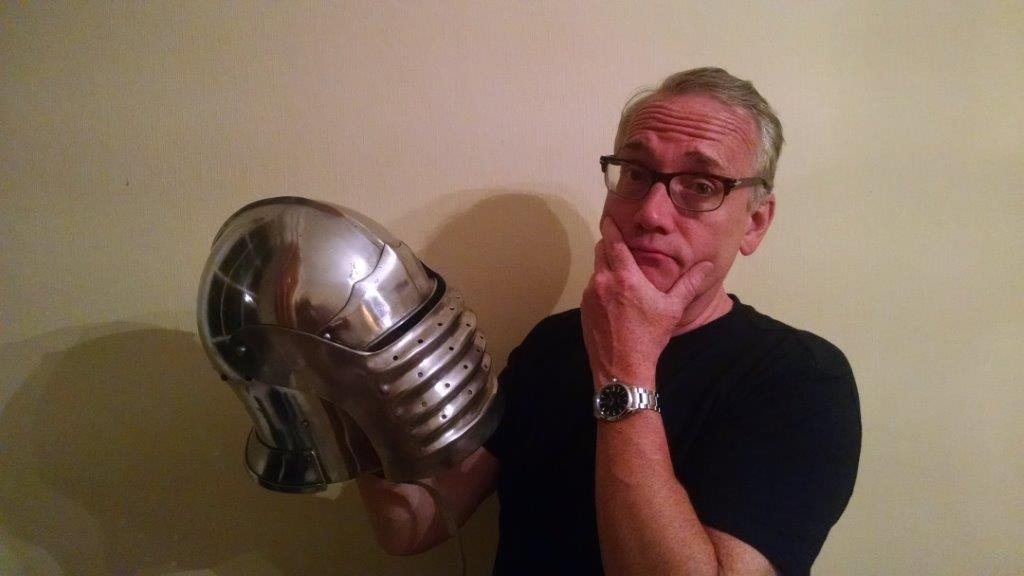 Sometimes you have to prove to yourself you can still do things you did when you were younger, less wise, and with less to worry about. Put it down to male mid-life crisis (but I think I'm past the cut-off date now) or just a longing for a leisure activity that once I devoted inordinate amounts of time to. At any rate, I embarked on a rediscovery of something I last did some 18 years ago. The big question was: am I too old to give it another go?
The "sport" I'm talking about is armoured combat in the SCA. The SCA is the Society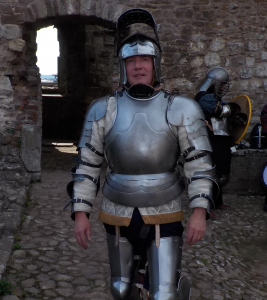 of Creative Anachronism, a medieval re-enactment group started up at the University of California at Berkeley in 1966 and that has now gone global. Combat in the SCA (the whole spectrum of medieval arts and sciences is also catered to) involves attempting to recreate medieval tournament combat, on foot, using wooden weapons. While it may not be entirely historically accurate, at least it doesn't involve silly choreography nor is it another  "Battle of the Nations" style bloodbath which uses blunted steel swords (you can check out the latter on You Tube to get a flavour). It's generally low-risk with high levels of armour and weapons regulations. It's also physically gruelling: imagine wearing full armour with a wooden shield and sword and then running around like a madman trying to "kill" your opponent—or opponents. It takes bags of stamina. Although there are referees, it's all based on an honour system where the recipient judges the power of the opponent's blow and whether or not it is a "kill". This should not necessarily dent 14- or 16-gauge steel but it does happen.
I had missed armoured combat these past two decades. I first took it up at 17 when armour standards were low and the look was faintly ridiculous. Think cut-down and padded refrigerant canisters for helms and ice hockey gloves for gauntlets and you can form a mental image. But as the 80s roared ahead and life becoming more complicated and with babies arriving in the 90s, the demands of daily life took over. My SCA participation tended to wax and wane. A final burst of SCA once I relocated to the UK petered-out about 1998 after a tournament held at Hever Castle. Now, in 2015, part of me very much wanted one last dash into the breach. Before I was too old to lift a sword again.
I finally convinced myself to get back into fighting again for the purpose of "research". I reasoned that a refresher in fighting in armour and regaining that unique viewpoint through a narrow eye-slit in a helmet would lend even more accuracy to my fighting and battle scenes in my novels. Well, that was the excuse anyway. Not entirely dishonest either. Even SCA combat can give you an idea of the rigours of medieval fighting: heat exhaustion, muscle fatigue, poor visibility, thirst, etc. Not to mention the role that luck plays on a battlefield.  Very good fighters can get beaten by overwhelming numbers or by a boot slipping in muddied grass. You get the idea. Despite that, the thrill keeps you coming back. I do think my experiences have improved my writing of action scenes. I have vivid memories of battle in the United States at the "Pennsic War" where we had over a thousand combatants on each side. I can tell you, the vantage from the field is nothing short of awe-inspiring when you look across to the opposite shield wall, waiting for the cannon to go off.
For the past few months I have been preparing from scratch. New armour and weapons, training with free-weights. However, attending practice sessions was difficult given the distance to the nearest group. That was going to be problematic: my past experience would never be enough to carry me through without some current practice sessions. This past weekend, and continuing all week, the SCA in the UK has held a magnificent event at Raglan Castle in Wales. We actually get to use the castle (or what's left of it). This was the place where I was to get into harness once again, from a cold start. I suffered some humiliation at the "reauthorisation" where I had to undergo practice combat and armour inspections by the presiding knight marshal to make sure I was competent and not a threat to myself or others. After just two minutes I began to feel like superman after he's inhaled a kilo of kryptonite dust: my shield arm began sinking lower, my legs felt like lead, my breathing became laboured. It was a worrying start that had me suddenly questioning the entire enterprise.
I passed the tests. The second day we "fought" inside the castle walls with groups of eight fighters on each side attempting to storm or defend the main gate, just a fraction of the forty or so fighters expected to arrive by mid-week. It was frenetic, violent, loud, chaotic—all rather good fun. I had wisely ditched the round shield and armed myself with a two-handed sword. This energy-saving measure plus the mega-surge of adrenalin allowed me to more than hold my own. As a matter of fact, given my age and the length of time out of action, I was damned pleased with my performance. Sure I got "killed" more than a few times. But I gave as good as I got, racking up several "kills" of my own. One against a very seasoned knight and not bad going for a knackered old man-at-arms.
But, O my brothers, the piper had to be paid. After about 90 minutes of bridge fights, courtyard fights and gatehouse fights, I was exhausted. Totally. Even after sitting one of them out. Then the muscle aches set in through arms and legs. I was anachronistically popping ibuprofen for the next 48 hours. Yellow-purple bruise on outer left thigh and what looks like third-degree razor burn on my chin from an ill-fitting gorget fix I had to do. I walked in feeling like Lancelot but walked out looking like Quasimodo. Could have been worse though. I could have just as easily convinced myself I was too old, talked myself out of it, and not even tried.
There's life yet in the old war dog it seems.