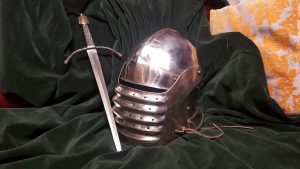 Well, have gotten off to a good start on the next novel, an historical adventure, which if I can pull it off, will sprawl across late-15th century Europe and involve three knaves looking for gainful employment.
Problem is, I'm still in two minds about making the narrative first-person or third-person. I've written and published both and as readers and writers know, each has its advantages and disadvantages. First person can pull you in by giving a heightened sense of involvement and immediacy but at the price of a narrow focus and constrained viewpoint (and story-telling). Third-person narrative opens up the scope considerably but can take more work to develop engaging characters and intimacy. I've started the new WIP in first-person, as that worked to good effect with my first novel, Gideon's Angel.  I still remember being bowled over by the voice of an emperor in I Claudius or feeling like I was sipping a single malt at my London club while listening to Harry Flashman regale me with adventures when reading George MacDonald Fraser's series. However, I'm beginning to have second thoughts about this new WIP so I've decided to write the first chapter both ways and see what sits best with me. It has to be an instinctive decision for an author, listening to heart and head to find what will work most effectively for a particular piece. Like most things in the creative space of the mind, it has a lot to do with how one feels at the time. If nothing else, it should prove an interesting exercise in writing craft!
What are your preferences when it comes to reading a novel? First-person or third? Present tense or past?