The Raven's Banquet
Germany 1626: A War, a Witch, a Reckoning….
Richard Treadwell is a young man who dreams of glory and honour on the battlefield—and the plunder and riches that would follow. With the help of his father, he journeys to Hamburg to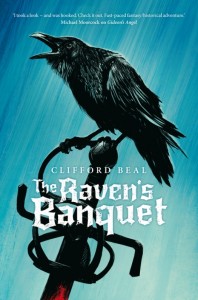 seek his fortune as a mercenary in the Danish army when it intervenes in the vast war that rages in northern Germany between the Catholic Hapsburg empire and the Protestant princes of the north.
But he brings with him an old secret—and the potential seed of his own destruction—as he descends into a horrific maelstrom of conflict and slaughter that quickly destroys his illusions of adventure, of right and wrong, and of good and evil.
When his fate is foreshadowed by a young gypsy woman, he discovers that he cannot outrun what he left behind in England and he soon finds himself thrown headlong into a series of bloody skirmishes alongside the Danes that strip him of conscience and harden his heart. The opposing armies close for a battle that will be the turning point in the struggle for the kingdom—and in the war for his soul. But even as Treadwell steels himself for the final contest against the forces of the Holy Roman Emperor, an unseen enemy stalks him within his own camp.
Fleeing the battlefield, his life takes an even darker turn when he stumbles upon a coven of peasant women dwelling deep in the forest of the Harz Mountains, women that have their own terrible secrets to protect—and a burning hatred to avenge.
The hero of Gideon's Angel returns to tell how his journey into the supernatural began.
The Raven's Banquet is published by Solaris Books and available through Amazon, ForbiddenPlanet.com and other online retailers as well as through Rebellion Publishing.
Here's what the critics say:
"The sensuous texture of the period is superbly evoked…."– The Daily Mail

"The past is a foreign country and Clifford Beal inhabits it like a native." –author Ben Jeapes

"…I hope Solaris have signed Beal up for another book after these two, I'd really like to read the further adventures of Sir Richard Treadwell. –The Bookonaut
"Beal does an incredible job of finding a middle point between authenticity and readability. Raven's Banquet sounds right. This is a wonderful work of historical fiction." –Annie Smith at Summer Reading Project
"The historical fiction aspect is fantastic – the use of voice and details makes this one of the most authentic I've come across. The text is easily readable, but rich and inflected enough to give a feeling of period, without causing confusion….Frankly, this is a stunning book in many ways, not least in the telling." — Brian Turner, SF Chronicles