The Guns of Ivrea
One Island. One Crown. One Faith.

A thousand rivalries….
Acquel Galenus, former thief and now monk of no particular skill,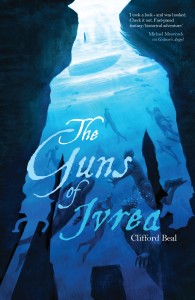 indifferent scribe and even worse chorister, uncovers a terrible secret under the Great Temple at Livorna, one that could shiver the One Faith to its core. A secret that could get him killed. A secret that could enable an older more sinister form of worship to be reborn.
Pirate princeling Nicolo Danamis, mercenary to the King and captain of the largest fleet in the island kingdom of Valdur, has made one deal too many, and enemies are now closing in to destroy him.
Citala, fair-haired and grey-skinned, the daughter of the chieftain of the Merfolk who inhabit the waters of Valdur, finds herself implacably drawn to the affairs of men. She puts events in motion that will end her people's years of isolation but that could imperil their very existence.
All their fates will intertwine as they journey across the land, through duchies and free cities riven by political intrigue, religious fervour, and ancient hatreds. Alliances are being forged anew and after decades of wary peace, war is on the wind once again…
The Guns of Ivrea is published by Solaris Books and is available through Amazon, Barnes & Noble, Waterstones and other retailers.
What the critics say:
"a merrily anachronistic adventure….Beal keeps the action balanced expertly with complex political machinations." — Publishers Weekly
"Beal is a storyteller who can handle plot adeptly enough to create a hugely compelling narrative…terrific fun."— SFX Magazine
"…an excellently gripping story of thievery, betrayal, piracy, and adventure…a fantastic and satisfying read." — SciFi Now Magazine
"…a cracking piece of salty fun. If you're a fan of Michael Moorcock and Fritz Leiber, you will most likely love Clifford Beal; The Guns of Ivrea proves that Beal can deliver addictive, page turning, pulp which also happens to have fun characters and nifty world building." — Starburst Magazine
"Clifford Beal's novel will suit those who want something somewhere in the middle of Scott Lynch's Red Seas Under Red Skies and George R.R. Martin's A Game of Thrones… .A highly readable, fast-paced, fun adventure novel that somehow manages to be all of that without ever sacrificing on character development, authentic descriptions, and vivid worldbuilding… great reading that will keep you guessing until the very end."—Fantasy Faction
"Beginning with a deadly temple secret and leading into a pirate rebellion, Clifford Beal proves you can't go wrong with a heavy dose of adventure and intrigue….From sea battles to subtle mental tricks, the fights are played out in many different ways and end with the promise of more." —Mazarkis Williams
"Fast-paced, intelligent fantasy action. A fascinating tale of intrigue, magic and war." — Adrian Tchaikovsky